Staircase to the Moon Night Markets
The Staircase to the Moon is a natural phenomenon observed in Broome Western Australia between April and October only. It is caused by the rising of a full moon reflecting on the exposed mudflats at extremely low tide creating a beautiful optical illusion of a staircase reaching up to the moon.
The Staircase Markets are held at the Town Beach Precinct on Hamersley Street for one night of the full moon April – October. Wander around the colourful local stalls under the stars, sample the tastes of Broome cuisine, listen to local live music and take in the spectacular Staircase to the Moon. Bring the family and enjoy a meal on the grass… Burgers, Pizza, Thai, Laksa, Satays, Fish N Chips, Egyptian food/kebabs/falafels, Chinese, Greek, Fruit Smoothies, Ice Cream, Donuts, Hot Dogs, Coffee and more… Stalls with jewellery, craft, clothing, confectionery, local mango products, soaps, incense, candles, photography, home-wares and more can be perused at a leisurely pace in the cool evening.
Getting there and back:
For all Thursday Night Markets the Broome Explorer Bus has extra return buses from the Town Beach bus stop on Robinson St, opposite the shopping centre, at  5.55pm, 6.25pm and 7.25pm.
Please check out the Broome Explorer Bus website for extra times on Staircase Market nights. They will generally leave 20 mins and 50 minutes after the moon rise from the Town Beach bus stop.
Thursday Night Market
The Thursday Night Markets are held at the Town Beach Precinct on Hamersley Street every Thursday night from from June to September. Enjoy local cuisine, live music and a variety of local stallholders.
April
Wednesday 28th (6.40pm)
Thursday 29th (7.34pm)
June
Thursday 3rd
Thursday 10th
Thursday 17th
Thursday 24th
Friday 25th (5.58pm)
July
Thursday 1st
Thursday 8th
Thursday 15th
Thursday 22nd
Sunday 25th (6.49pm)
Thursday 29th
August
Thursday 5th
Thursday 12th
Thursday 19th
Monday 23rd (6.30pm)
Thursday 26th
September
Thursday 2nd
Thursday 9th
Thursday 16th
Tuesday 21st (6.06pm)
Thursday 23rd
Thursday 30th
Christmas Market
Sunday 21st                     (7.49pm Staircase to the Moon)
Markets open at 4.00 pm  |  All sites are allocated prior to the market starting.
Time in brackets denotes a Staircase to the Moon event and the Moonrise time.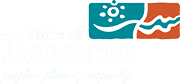 Broome Community Stallholders Association gratefully acknowledges the support of the Shire of Broome in the presentation of the Night Markets & Staircase Markets.